Forget Cooking Lessons - Join Our Tours With Eating Lessons!
We like to "Immerse you into the rhythm of the culture"sm
The "Slow Food" movement is growing around the world - a movement dedicated to lingering lovingly over each successive course and morsel, with wine and conversation flowing generously - have provided for "Leonardo's Eating Through Italy" tours, run by Leonardo Ruscitto of Gelato Atlanta
Wine & Culinary Tours!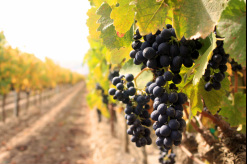 As a tour member you will enjoy a bounty of delights - wineries, vineyards, estates, shops, pasticerias and restaurants. They will all be rich with character, charm and traditional products such as salumi (cured pork meats with no preservatives), olives, truffles, mushrooms, and even wild fruits. Each excursion Leonardo leads provides numerous opportunities to experience the never-ending delights of exquisite traditional dishes from New Orleans to Tuscany ,and Down Under in Australia.

Enjoy companionship. Come join a group of fun travelers who enjoy the pleasures and experiences of cultural immersion and way of life along with the enjoyment of great food, beautiful sites, and plentiful wine. The memories of Leonardo's tours will give you pleasurable thoughts for years to come and friends to share them.
---
Wine is made virtually in every country and you can easily drink your way around the world. One of our tour destinations is Italy which has a glowing reputation with wine. Italy offers the greatest variety of wine types, ranging through nearly every color, flavor and style imaginable. Italian producers have moved rapidly to the forefront of world enology, improving techniques to create wines of undeniable class in every region, north and south.
About Leonardo!
A long-time and well known figure on Atlanta's culinary scene, Leonardo takes very seriously the necessary research to ensure that the best food and wine of each country you visit not only offers the most beautiful landscape but also provides the freshest, finest local produce and meats, done to absolute perfection, as well as daily handmade pastalongs and breads of every description, all washed down with luscious local wines.

Leonardo is a former Georgia board member of the American Institute of Food and Wine, the Georgia Restaurant Council, the Executive Chefs Association, and the Slow Food Movement. His expertise and experience have made his "Eating Through Italy Tours" a natural expansion of his Italian repertoire.